You can visit our Zazzle.com store,
http://zazzle.com/nimansway
and order t's, cups, totes, postcards using the old photos, one of a kind photos and artwork we provide. 100% of the proceeds is donated to help veterans acquire PTSD Service Dogs. We are adding items frequently, so check back often!
Award winning photographs from Dunn Photography, vintage photos, postcards and art work have been donated so that we have unique items for sale. Together, we can help our veterans rejoin society with the help of the trained service dog.
---
Lovely black and white photo of a an English Bloodhound around the turn of the last century. Notice the white on chest and paws. This is thought to be the influence of the Talbot hounds when crossed with the St Hubert Hounds of France.
---
A liver and tan bloodhound. Bloodhounds have three accepted colors: black and tan, liver and tan and red. This dog favors the old, what was called at one time, the American "penitentiary" type, before the influx of the heavier skinned English type. Makes a really nice t-shirt.
This was our first rescue dog: Rescue Addison!



---
A lovely copy of the painting by Sir Edwin Landseer: Sleeping Bloodhound
---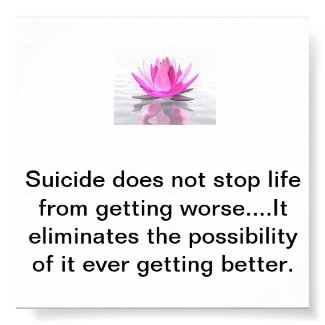 Suicide does not stop life from getting worse...
by
NimansWay
Find other Suicide prevention Posters at
zazzle.com